including pictures & program mailers
The 32nd Annual FloatFest

2009

A Summer Solstice Celebration
Click on the

PLAY

button (FORWARD button)
beneath the picture
below

to start

SLIDE SHOW

.
The 31st Annual FloatFest

2008

The Second Round
of
The Masters of Pulltite

Click on the PLAY button (FORWARD button)
beneath the Group Photo picture below
to start SLIDE SHOW.
The 30th Annual FloatFest

2007

The Masters of Pulltite

The 29th Annual FloatFest
2006
The Tour of the Sudoku Pseudo-Canoes

2006 FloatFest Group Photo
The 28th Annual FloatFest
2005
The Great Cardboard Boat Race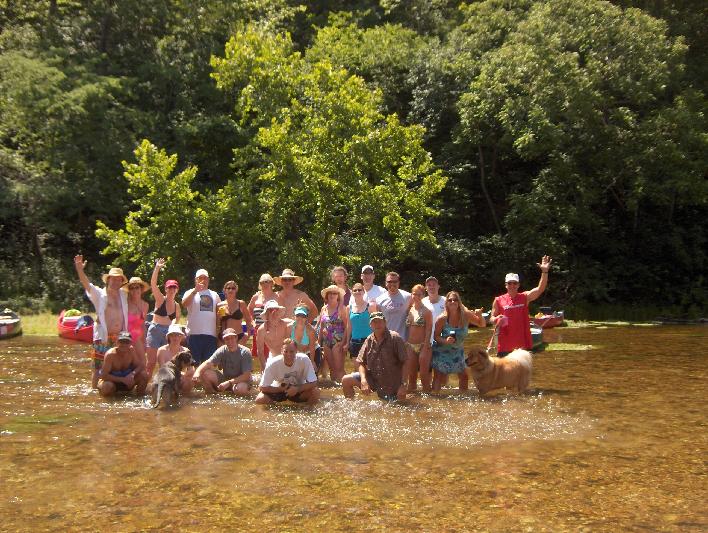 28th Annual FloatFest Group Shot
Thanks to all of you for making the 28th Annual FloatFest (2005) such a fun-filled succcess:

• Kent (great job Captain ... and awesome crab legs ... yum)
• Caroline (great job Captain ... and thanks for the hospitality)
• Nanbo (congrats on winning the FREE trip & being MOP again)
• Lord Leeker (great effort skippper ... hope those hands heal)
• Jay (always peace, love and understanding)
• Joan (a beautiful virgin and great hood ornament)
• Bob Cline (thanks for the sheer entertainment as always)
• Melissa (virgin no longer ... please come back again)
• Doug (singer / guitar master / camper extraordinaire)
• Angela (shhh ... Keith's snoring ... NASA shot it, did ya see it?)
• Brohead (oh mama mia, mama mia let me go ...)
• SCUBA (now where did I put that beer)
• Katherine (bass master and ballet queen ... hope you're well)
• Mike (headline: virgin kayaker survives the FloatFest)
• Dave (thanks for coming all the way from Conneticut)
• Kelly (were two paddles ever needed ... I think not)
• Jeff (oh yee of great stories and contagious laugh)
• Robin (has new tatoo on her back)
• Chris (anyone seen an Amish rabbit)
• Bonita (queen of decorations and magical moments)
• Robert (trashman and pimp daddy)
• Susan (duct tape engineer and stealthy strategist)
• Gavin (the virgin who really takes the cake)



FloatFest programs were printed and mailed to invitees
beginning with the 3rd Annual FloatFest in 1980
through the 29th Annual FloatFest in 2006.